I've made myself another dress. And this time I am determined to wear it. I know, I know. I said that about the
last dress
I made...and I have to confess, I have not worn it.
But this time I have lots of events to go to (being the lead up to Christmas) and the weather is (almost) warm enough for this sort of dress in the evening.
Okay here are the details; the pattern is New Look 6557, picked up for a couple of dollars from the op shop (which is actually more than I'd usually pay for a used pattern, but I really liked the style of this dress).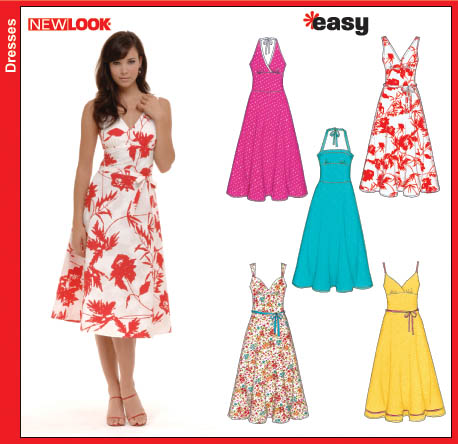 Image Credit: http://sewing.patternreview.com/patterns/11697#.UJ4OtGeS3v8
I also loved all the design options available, and ended up choosing the option E which is the pretty floral one on the lower left. The neckline and the shape of the shoulder straps won me over.
This dress was a pretty quick sew, I managed to cut it out and sew it up in one afternoon. Here's where I admit to an error though, I don't know how I missed it, but I forgot to sew up the underarm seam until after I'd attached the bodice to the skirt. Oops. So there is a visible line of sewing under the arms where I fixed that error. I also had to read, then re-read how to attach the back facing. That one really stretched my brain and took me a good while to get my head around!
The fabric, which is a bit hard to see in this photo is a silky yellow and white polka dot that I picked up at the op shop on the same day that I found the pattern, they were meant to be.
The pattern has a zip closure at the back with a hook and eye loop.
I made the dress in a size 12, which is my usual size, but found the underarms were gaping. I took them in about an inch at the side seam.
And the back view.
It was when I saw this last photo I realised it was also a bit big in the midriff section. So when I make this dress again, which I intend to do, I will make the top section in a smaller size and graduate out to the larger skirt piece.
Fingers crossed this dress gets worn out in public very soon!